When traveling out, you would have noticed that the longest way out is the shortest way home. However, small or a not-so-classy a home maybe, but the family bonds that prosper inside the walls, give value to its net worth. No doubt, the tags of 'modern house', 'luxury home' add to the luster and glitter of a property. Also, listings with the words 'Beautiful' and 'Gorgeous' in the description sell up to 15% faster than otherwise! But it's not just the name-tags or elevated price-tags that define your dream home; There's more to it!
"A house is made of brick and mortar, but a home is made by the people who live there."
When you think of a dream house, you get a feeling of that space being comfortable and welcoming, a place where all your stress profiles approach to zero, a place where you feel like Home! Such a place has to be designed with such love and expertise that the dwellers feel the warmth and enjoy the ambiance. After all, a home is a core point of one's life.
While some prefer an ideally located house, and for others, it might be the interior aesthetics of the house that carries importance. A perfect home is a place that addresses the concerns of the people living inside it. Houses and plots in well-reputed societies like Bahria Town Lahore, Defence Housing Authority (DHA), Johar Town, Lake City have been designed to offer the best and lifestyle and environment to the residents of the area. Let's look into what a perfect house for sale in Lahore should have in it.
Remarkable real estate developers and architects consider the following qualities when defining a residential house project:
The Airy Feels of the House
An airy and properly-ventilated house spreads happiness and comfort. Good vibes spread across the walls of adequately designed-and-built homes are how homeowners define 'perfection'! The sunlight flowing in and the moisture and humidity levels staying on their optimal measure, the bad odors and foul smell not entering the house- A perfect mix it forms for the dwellers to stay happy and comfy in the premises of their comfort-zones. Yes, homes are comfort-zones and they need to be comfortable!
Ergonomic Interior Designs
The overall interior spaces of a home speak louder than anything! You see them and they tell you what they have been feeling being a part of that house. The interior designs of your ideal home depict your feelings, your approach towards life, and much more. Therefore, they need to be a compliment to your space. The charisma of your space being different and appealing is what you would want when you invest in your dream home! Once you land at your dream house with your luggage and your family, you need to be feeling the actual feels for which you had invested in your house in the first place. The spacious rooms, the glittery facade, everything that compliments the curb appeal of your home is to be pre-eminently worked upon when you are preparing the check-list of your dream home.
High-Quality Construction
A well-constructed house is your best long-term investment. The dream home you have always been collecting money for has to satisfy the definition of your Ideal Home! The sale figures improve when a well-constructed house is sold by reputed real estate developers. These dealers will take up the homes that are authentically constructed and finely designed, away from the risks of thwarting down or any other construction associated troubles. The use of fine raw materials and up-to-the-mark masons and designs is a must. A house constructed with love and proper supervision speaks for itself! In Lahore, most of the housing societies make use of good quality raw materials to ensure that they fulfill the requirements of an ideal house for sale in Lahore.
Appropriate Ceiling Heights (10'-12')
To give a room a spacious look, standard and typical ceiling height are built at 10 to 12 feet. It also benefits you to install a decorative false ceiling in your spaces.
Capacious Living Rooms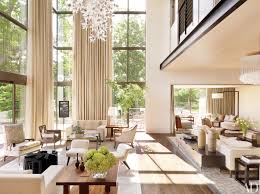 Living rooms structure the most appropriate definition of the overall interior of a house. Dining table and sofa sets in combination with light decors and side consoles are basic installations in a living room. Nice placement and absorbing hues that look comfortable, give a comfy and cozy gesture to the residents. Thus, this corner needs to be capacious and eye-soothing, and obviously it should smell nice.
Visit a couple of online searched houses and pay a visit to your most favorite one. Buy it. Make it your Home!